Textbook
The only required textbook is The Visual Display of Quantitative Information, Edward Tufte.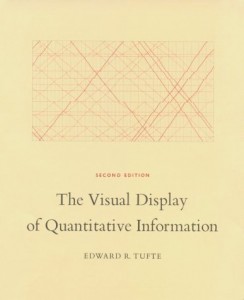 Other Textbooks (purchase not required)
Visualize This, Nathan Yau
The book provides an introduction to the most important tools and techniques. It makes for a nice complement to Tufte. We won't use this book in class, but it's a great resource to quickly dive into creating visualizations.
Designing Data Visualizations, Noah Illinsky, Julie Steele
Equally as useful as an introduction. Covers many basics, and it's a great read. Unfortunately the print version is b/w only. I'd recommend getting the ebook. An alternative is to access it through Safari Books online free of charge through the library proxy (see link above).
I will also assign some of the chapters as readings for the class.